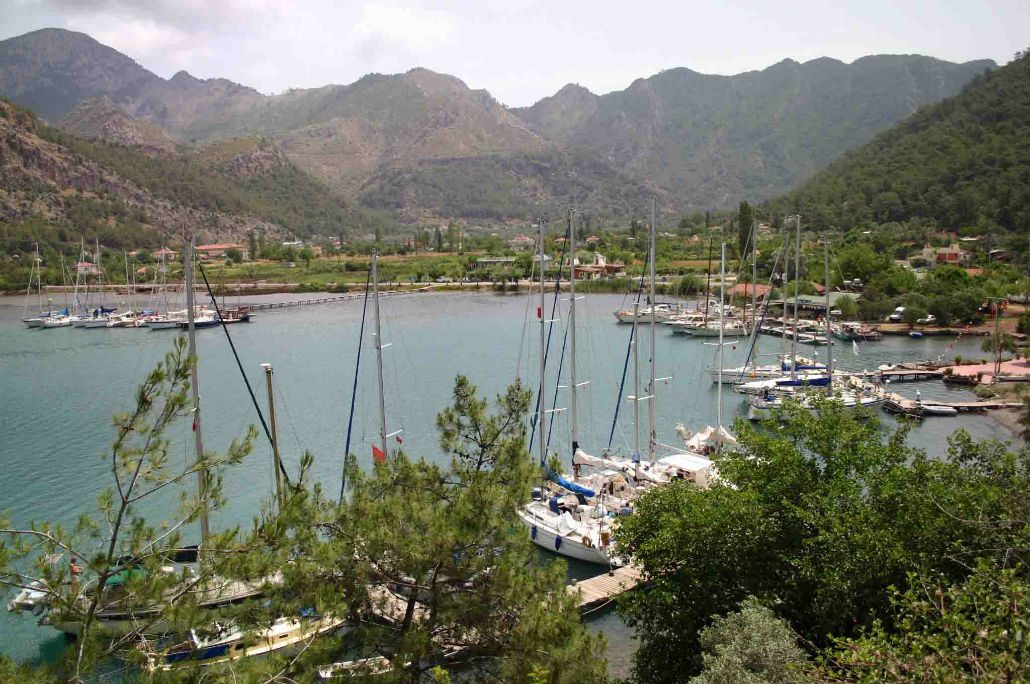 Orhaniye (aka Keçi Bükü)     36°46.7′N, 28°06.98′E
Described by some as "Turkey's hidden secret," is Orhaniye.  It is located between two steep, rocky slopes of the Keçi Bükü Bay, at the head of the Gulf of Hisarönü.  A stream keeps the enclosed, pine-forested valley and the central flat plain well-watered and green.
The bay stretches about 1.3 nautical miles.  After the entrance, on the left is the Marti Marina.  The marina has all the supply options and facilities of a modern marina.
While navigating further in, be mindful of a large sandbank in the southeast of the bay known as Kizkumu, or Maiden's Sand.  It is a long, narrow sand pit, lying just at or slightly under the water surface.  While presenting  a bit of sailing hazard, it also provides a much-loved "photo op" for many.  When walked on, it looks as if you are walking on water. It is so enjoyed that, all you might need in spotting it are the people walking on it. Some believe that it is one aspect of the bay not to miss.
In the crest of the bay are several restaurants and bars with jetties, mooring lines and electricity/water.  Alternatively, there a lots of little inlets to anchor in, some with restaurants and a pontoon, many with nothing at all.
Orhaniye is a gem of a village and deservedly popular with visitors, of which you will see many.
Facilities
Several restaurants, bars and cafes
Marina facilities at Marti Marina (i.e. laundry, supermarket, swimming pool, showers, fuel station and restaurant)
Mooring at numerous jetties/pontoons around the bay
Back to One Week Itineraries …